Shell Tank finished
The latest project I finished from this book is more adapted to the hot summer weather with 35 degrees centigrade here in germany than the Hex Coat I knitted before, it´s the Shell Tank. I knitted it as a present for my cousin so here is again no photo someone wearing the Tank, sorry. I´ll ask her whether she´ll give me a photo for you ;-)
So, here it is: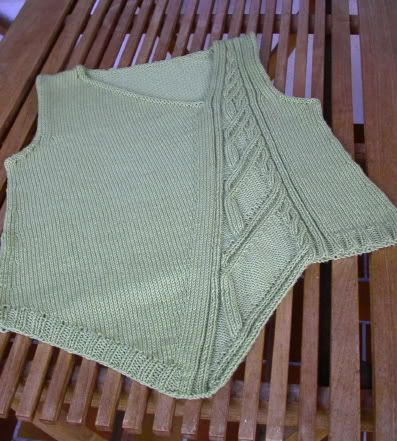 The yarn is Schewe Unique 50% Cotton, 50% Polyacryl and is a leftover of a cardigan I knitted in May. I knitted the Tank in size petite and I used 220 gramms by a yardage of 125m/50g.
I enjoyed the knitting very much but I´m lazy so knitted the 3 parts of the front as just one :-) and I can recommend it to you all.
Have fun with your projects.
Claudia.
http://myblog.de/himawari
addendum:
Here is the photo showing my cousin wearing the Shell Tank which has been a present for her.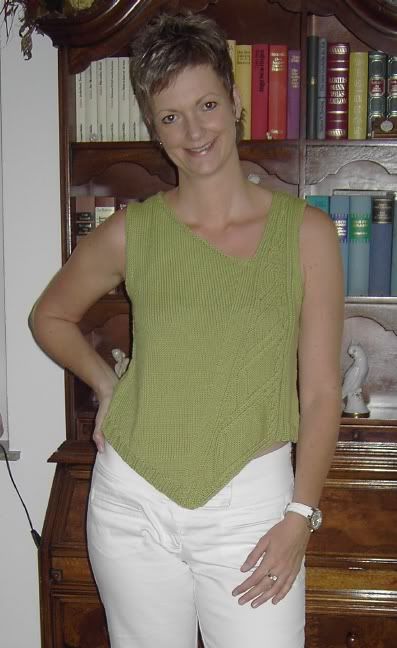 You also asked for how I did the front in just one part. I began which the chart and then in the 9th row I cast on the stiches for the right side as given in the pattern and also a few rows further not just the few stiches as given in the pattern but also the number of stiches given for the left side. That´s all :-)