Some more pentagons!
I've made a good amount of progress on my
Pentagon Sweater
since the last time I posted. I now have a front, a back, one sleeve, and a partial yoke!
I'm not sure if anyone else is knitting this pattern, or planning to do so when it gets a little cooler, but I want to tell you that I had some trouble knitting the yoke. Based on the schematic I knew the size of pentagons I wanted, but following the pattern's directions didn't give me the desired size.
I can't say for certain whether it's some kind of typo, or whether I simply cannot achieve the same gauge as the designer in the pentagon section. Sadly, the pentagon gauge is not specified in the pattern, only the stockinette gauge is.
In any case, knowing the finished size of the pentagons that I needed, I created them any which way I could, even if deviating significantly from the written instructions. In my case, I used needles the same size as the rest of the sweater, and made each pentagon side 15 sts long. I also switched from working the pentagons in 1x1 rib to making them stockinette.
Here
's how the ribbed pentagons are intended to look like, and here's how my modified stockinette ones came out: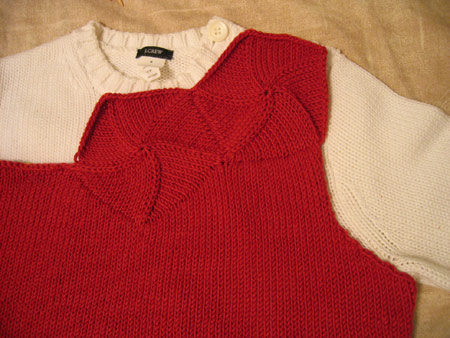 The work-in-progress is on top of a white sweater I have which fits me very well. You can see how cleverly the pentagons form the top of the sweater, and the fact that the dimensions match reassures me that the finished thing will fit.
Some more details on my
blog
Grumperina
Tags:
Pentagon Pullover_